Introduction of Hong Kong Committee for UNICEF
Hong Kong Committee for UNICEF (UNICEF HK) was founded in 1986 and was established as an independent local non-government organization to raise funds through public donations, partnerships with companies, special events, etc. to support UNICEF's work. UNICEF HK also promotes and advocates for children's rights via organizing education and youth programmes in Hong Kong.
Learn more: https://www.unicef.org.hk/en/

Introduction of UNICEF HK GenAction
UNICEF HK GenAction refers to an action-oriented generation who join hands with UNICEF HK to work on local and global child related issues. Through experience sharing and idea incubation, we encourage young people to roll up their sleeves and come up with actionable ideas and projects for the well-being of every child. We invite all passionate and innovative youths to join UNICEF HK GenAction.
Through participatory platforms like Innovation Lab, UNICEF Club, Young Envoys Programme, young people can learn more about local and global child rights issues. Let's get involved and make a difference for the well-being of children around the world!
Learn more: http://genaction.unicef.org.hk/en/
Introduction of UNICEF Club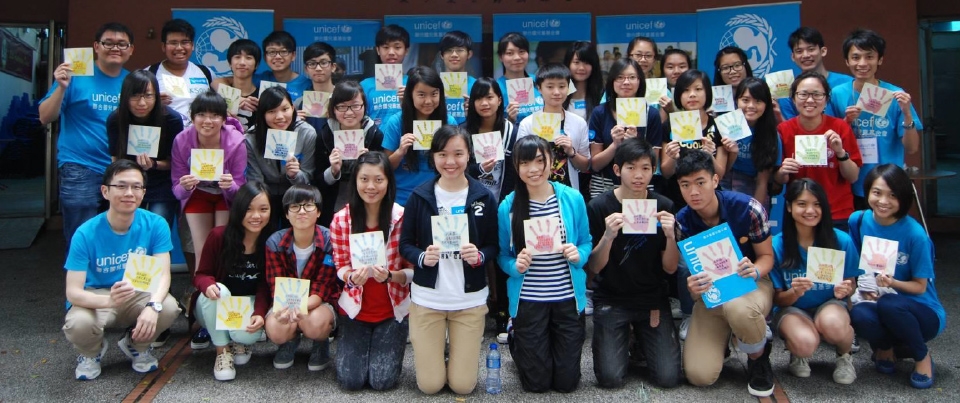 UNICEF Club strives to strengthen the connection between UNICEF HK and secondary schools since its launch in 2007. It provides entry-free and student-led platform, in which student leaders are encouraged to care about world children as global citizens, and are empowered to play a vital role in promoting global citizenship to peers by organizing different kinds of school activities.
Role of UNICEF Club
Organizing self-initiated school activities

Volunteering for UNICEF HK's events
Support from UNICEF HK
Provide latest global news of UNICEF's work, children's rights and United Nations Sustainable Development Goals (SDGs)
Provide promotional materials, souvenirs and subsidy for club activities
Issue a certificate of appreciation by the end of school year